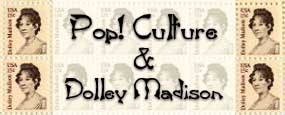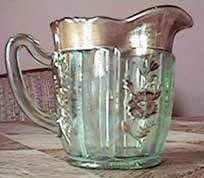 "Stemware" does not need to have to have a stem. Rather, the category embraces daily drinking glasses and tumblers for all occasions. Stemware includes goblets and sherbet glasses, cordials and pitchers, wine glasses and water glasses. Stemware can be made of pressed glass or of crystal. Like dinnerware and silverware, it is made in patterns by a variety of companies who identify each pattern by giving it a name.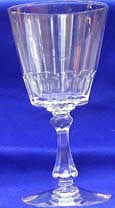 One stemware company to name its products after Dolly Madison was the Fostoria Glass Company. The Dolly Madison stemware pattern was crystal with cut flutes on the bottom of the bowl and was produced from 1939 to 1973. The champagne, iced tea, water goblet, and wine glass were reintroduced in the 1980s as part of the company's Nostalgia line. The original set, however, included quite a large variety of items including two different "bonbon" dishes, two different candlesticks, mayonnaise with ladle, mayonnaise with underplate and mayonnaise with both ladle and underplate, not to mention a muffin tray, an olive dish and a cruet. The company opened in Fostoria, Ohio, in 1888 but soon relocated to Moundsville, West Virginia. By the 20th century the company began marketing its products aggressively. In 1983 the Lancaster Colony Corporation purchased Fostoria, and in 1986 closed their Moundsville plant. Fostoria's Dolly Madison stemware has become a collector's item.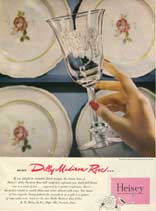 The A. H. Heisey Company also produced a line of Dolly Madison stemware. August H. Heisey created his company in 1893 in Newark, Ohio. In the late 1890s he introduced colonial patterns with flutes, scallops, and panels. The Dolly Madison pattern has roses. The company closed in December 1957, unable to compete with foreign companies in an environment of increasing production costs.
Rinker, Harry L. Stemware of the 20th Century. New York: House of Collectibles, 1997.