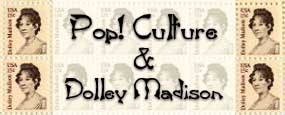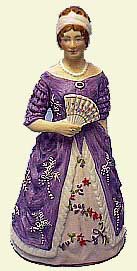 Dinnerware means dishes: the many sizes of plates and bowls that are made for dining and serving. There are numerous companies producing such sets located not only in the United States but in Europe and Japan. Ceramic dinnerware can be made of pottery, stoneware, or porcelain. Each has a different production process and a different look, but all are comprised within the single category of dinnerware.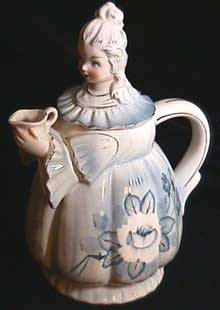 In the 19th century most wealthy Americans preferred to purchase their fine china from Europe including England, France, Holland, and Germany. Formal Victorian dining required a very large number of serving pieces and the well-set table would have specialized pieces for each course at each meal: tea, dinner, desert, and breakfast. By 1900, however, companies had begun mass producing inexpensive ceramic dinnerware for ordinary people. The number of designs mushroomed accordingly, and each design required its own name.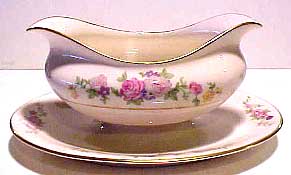 Several different dinnerware companies produced services or plates known by the name "Dolly Madison." Rosenthal began production in Bavaria, Germany, in 1879 and flourished until 1936. By the end of World War II many of their factories had either been destroyed or had become technically outdated. A new generation of Rosenthals, however, rebuilt the company. The Castleton China Company was established in 1940 in Pennsylvania as a subsidiary of Shenango China and Rosenthal. They presumably picked up many of the lines already in production in Germany and created a slightly modified "Dolly Madison" pattern. These patterns used a rose motif. The Lamberton company also produced a rose-based "Dolly Madison" pattern. In contrast, the Knowles company produced its own "Dolly Madison" design; less formal, it was distinguished by blue and green flowers and leaves radiating out from the center in geometric formation.