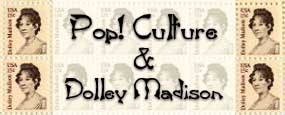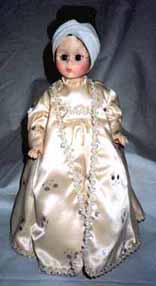 The most common Dolly Madison doll is a smartly dressed portrait doll. The origin of this kind of doll was the "fashion doll." These dolls originally were made to transmit high fashion styles around Europe and then to the United States. Originating in Paris, the fashion capital of the world, these models were dressed in miniature versions of the most beautiful and luxurious clothing of the moment and were to be copied by seamstresses for elite women. Dolley Madison learned about French fashion through dolls that were sent across the Atlantic Ocean to inform North Americans of the latest word in women's beauty. The arrival of fashion dolls might even be announced in local newspapers.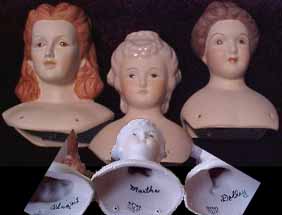 The fashion doll lost its function in the middle of the 19th century, however, with the introduction of printed fashion engravings and fashion magazines. That did not end the production of dolls dressed up as objects of beauty, but it did terminate the society function of these dolls. After the middle of the 19th century portrait dolls began to be produced that displayed historical figures. Others simply personified womanly beauty.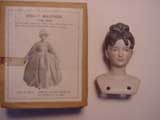 In the 19th century porcelain busts were to be attached to cloth or wooden bodies. They often came with china hands and feet as well and we have examples of this in our archive. Before 1870 these heads tended to be constructed from china; after that date from bisque, which is duller but receptive to detailed shading and coloring. In the 20th century heads and bodies were molded out of plastic.
"Dolly Madison" heads were produced in Germany in the 1870s out of porcelain, either china or bisque. These dolls were then dressed in a wide range of costumes. The color of their hair could be either blond or brunette but the hair had to include a molded bow. Since then are a number of companies have manufactured Dolly Madison dolls including Brinn and Suzanne Gibson, Effenbee and Alexander.


EFFENBE is an acronym for Fleischaker and Baum, the two men who founded the company in New York City in 1910. The company had many different doll "lines," including historical replications - replete with painted eyes and dressed in satins, velvets, and silks.
Mme. Alexander is named after the sisters who created the company in 1923. Originally made of cloth with flat faces, they soon went "up market" and made dolls with porcelain heads. After World War II their dolls were made from hard plastic. Mme. Alexander dolls are known for their costuming.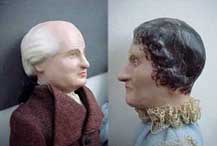 Another form of portraiture is the wax doll. This doll is specifically molded as a portrait and in a miniature form reflects the art perfected by the British wax portrait museum Madame Taussauds's. Our collection includes the Lewis Sorensen models of James and Dolley, created as part of his Presidential Series of wax dolls. Born in 1910, Sorensen became on of America's premier creators of wax dolls.
The most recent addition to portrait dolls that we have found are a set of paper dolls of the Madison family and Christopher Radko's Dolley Madison Christmas Ornament.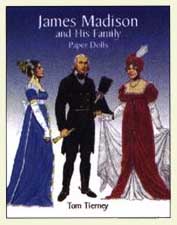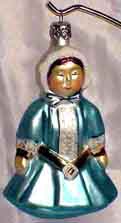 Herlocher, Dawn. 200 Years of Dolls. 1996.
Richter, Lydia. China, Parian & Bisque German Dolls. 1993.
Richter, Lydia and Joachim F. Collecting Antique Dolls. 1991.
Sorensen, Lewis. Doll Scrapbook. 1976.