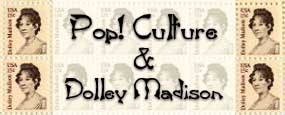 We have included several different kinds of items under the general title of "smokes" including cigar labels, advertising collectibles, and cigarette cards.
The cigar industry was a fiercely competitive environment during the late 19th and early 20th century and thus the visual impact of a box label or cigar bands could make or break a company. There were, moreover, hundreds of small cigar manufacturers working with fewer than a dozen lithographers who specialized in producing the labels. The "golden age" of cigar labels lasted from about 1890 to1930. During this period labels were produced through the technique of stone lithography and were marked by gilding and embossing. The heyday of this advertising format began to wane in the 1920s as cigarettes began to outsell cigars and label makers shifted to a four-color photomechanical process.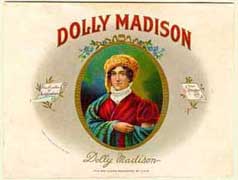 There are two Dolley Madison cigar labels - at least that we have found so far. The older one uses the portrait of her done by J.F.E. (John Frances Eugene) Prud'homme (1800-1892), which we have also used extensively in our website. This is a stone lithograph done during the "golden age." The newer one portrays her as a lovely, alluring, and sexy Spanish-style woman with no reference to the "real", or historical, Dolley Madison.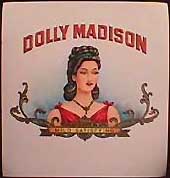 Cigar labels fall into a wide variety of genres ranging from Cowboys and Indians to Children to Transportation to Sports and Gambling and so on. Among these types were Famous Women and Patriotism. The Dolly Madison Cigar box labels fall into both of these categories.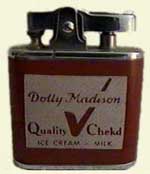 By the turn of the century companies were producing their own advertising gimmicks, ranging from clocks to emery boards to letter openers to cigarette lighters. These items could be hung up as signs, placed on tables, given away to good customers, and used in a host of other ways. One such company was Dolly Madison Dairy. The interested viewer will find other examples of these advertisements in our popular culture archive.
We currently have no information on Dolly Madison Cigarette cards, or cigarette cards more generally, other than the observation they, too, were promotional products. We would appreciate hearing from anyone who knows something about this advertising venue.
Davidson, Joe. The Art of the Cigar Label. 1989.