About Professor Rainville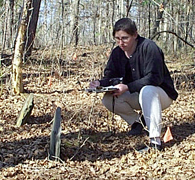 Dr. Rainville has been studying historic American cemeteries since 1990; she began researching African-American cemeteries in 2001. She received her B.A. from Dartmouth College (in History and Anthropology, 1993) and her Ph.D. from the University of Michigan (in Anthropological Archaeology, 2001). She has conducted archaeological field research on complex societies in Turkey, Syria, India, Mexico, New Hampshire, and Virginia. She has taught anthropology and archaeology at Dartmouth College, the University of Virginia, and Sweet Briar College. She also serves on the Board of Directors for the Albemarle Charlottesville Historical Society.
She has published articles and book chapters on Mesopotamian cities and households and historic American mortuary practices. She has received numerous grants and written over a dozen articles. She wrote a book on applying a new approach to the study of ancient Mesopotamian cities: Investigating Upper Mesopotamian Households Using Micro-Archaeological Techniques (Archaeopress 2005) and two monographs for the National Park Service on enslaved communities (at the Booker T. Washington site and the Gaines' Mill Battlefield park). Currently, she is working on a book that discusses the results of this project, tentatively titled, African-American Mortuary Variability: Historic Gravestones and Cemeteries in the Virginia Piedmont.
To contact Dr. Rainville, click here.