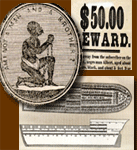 Virginia Gazette
(Rind), Williamsburg, March 12, 1767.
RICHMOND County, February 24, 1767.
HAVING had a Still-house built close by my Dwelling-house, but down in a Gully much out of Sight for the Conveniency of a Spring, now near two Years; and having a large new Copper Still that might work One Hundred and Twenty Gallons or better, with a large Cock at the bottom of it, a fine Pewter Crane Nossel rising from the Top of the Cap of the Still, with a Loop of Pewter upon the Crane to lift it occasionally from the Still; and with it a fine noble Worm well stationed with Pewter from Top to Bottom in many Parts of the spiral Curve of the Worm, fix'd up in the Still-House for about fourteen or fifteen Months. I have this Day discovered by mere Accident, that the said Still and Worm has been carried off by some Persons, but without its Tub, as the Staves thereof are found lying about in the Swamp. I hereby advertise the Sum of TWENTY POUNDS Currency as a Reward to any one or more to discover by whom the said Theft has been committed, providing the Thief or Thieves shall be convicted when brought to Justice. The Time when this Still was stolen cannot be certainly pointed out; because as Stilling is a Work only upon Hand perhaps once in a Year, this House can only in its useless Times have been looked into by Accident. There is a Report that one George Keele, a Convict, who some Years ago served his Time with me, and has since his Freedom lived up in Frederick, Fauquier, Culpeper or the other back Counties thereto adjacent, as a Waggoner or Carter. This Keele has been known to have come into this Neighbourhood twice or oftener within these few Months, and about ten Days or a Fortnight ago, came down with a Cart in the Night, and called at a Weaver's House just by Dickinson's Mill in this County for Quarters, but finding the Weaver knew him, did not lodge there, but drove on; from whence it is presumable the Business of carrying off this Still had been projected in some of his former Trips into this Neighbourhood; and as he was then seen frequently lurking about with one Robert Smith, whom I prosecuted some General Courts ago, for Thefts committed in my Outhouses, it is not unlikely but this Villainy must have been carried on by them; two Horses having been missing out of this Neighbourhood in one of Keele's Trips before this. Note, it is about a Fortnight ago or a little more, that some of my Family had Occasion to go into the Still-House, and then they think the Still and all its Appurtenances were there. Now the Time when Keele came last down was the 12th of the Month and he returned the 13th early with his Cart covered. The Still was some Years ago sent me from London at about Forty POund Sterling Price, quite new and never used when carried away. I have offered a large Reward, hoping that the People of this Country will use some Diligence to detect uch a Species of Villainy, which may sooner or later prove the entire Destruction of many families in this Colony, as they are not so situated to croud every Thing under their own Roofs. How easy is it (since Carts may be made use of) thus to perpetrate a Robbery upon every Out-House in the Country? And Negroes no Doubt may be hired as well as mine for Liquor to assist in the most daring Attemps. The Weight of this Still was so very great, that it employ'd five or six of my best Hands to carry it down the Hill; and as it appears by some Tracks, the Cart brought over some of my Fields, was lodged at the Top of the Hill; some greater Assistance than common must have been used to get it into the Cart, and if the Roads were seen, it would be found to be one prodigious Night's Work. I have been in this Advertisement particular, to let others see what a Situation they may be in, who have Salves capable of being thus corrupted by Liquors. I have some Notion that LC or my Name at length was stampt or dotted with a punch upon the Copper or the Cap of the Still.
LANDON CARTER.
February 28th, 1767. This very Day I have certain Intelligence sent to me, that one Simon Rice on Friday the 13th of this Month, as before mentioned, met the said Keele in his red Coat, with red Gambadoes on, driving a Cart with three Horses in it covered over with a rd Rug, just by Dickinson's Mill, when it was snowing very fast, and as he passed him, the Wind blowing off a Part of the Rug, discovered a Worm and Cap of a Still. Therefore it is to be hoped that wherever this Advertisement shall reach, if the said Keele should be in those Parts, some well disposed Persons will use their Endeavour to have him immediately apprehended. He is a tall lusty Fellow, with the Plowman's lounging forward Gait, and has as much of the drap Gallows in his Face as is common to be seen in noted Villains. It is reported he carries on a thievish Traffick from Virginia into the upper Parts of Maryland, and I shall be as willing to pay the Reward to any Person in that Province intitled to receive it on the before mentioned Terms, as I should be if this Thief is apprehended in this Colony.
Bibliographic Information
Virginia Gazette (Rind), Williamsburg, March 12, 1767
Availability
Available to the general public at URL: /gos/

Text and images © copyright 2003, by the Rector and Visitors of the University of Virginia