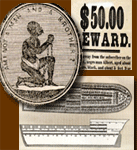 Virginia Gazette and General Advertiser (Davis),
Richmond, May 20, 1795.
RANAWAY from the Subscriber, on Saturday the 9th instant, a very likely young Mulatto MAN, named JAMES, 25 years of age, about 5 feet 5 inches high, stout and very well made, turns out his toes in a remarkable manner--he served an apprenticeship with barber Caesar in York, has since worked at the carpenter's trade, and is a very good common shoemaker.--He is generally a good tempered fellow, and much addicted to drinking, and when in liquor, is apt to quarrel--he has been subject to [illeg.] between the 3rd and 4th fingers of his right hand, the opening of which has left one or more scars; he has the appearance of a wort on the outer part of both his little fingers, occasioned by having two superfluous ones cut off in his infancy--I will give Three Dollars to have him secured in jail, and notice given me of it. J. NELSON. King William, May 16, 1795.