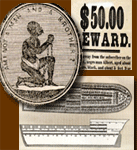 Virginia Gazette and General Advertiser (Davis),
Richmond, January 18, 1792.
Run away from the subscriber, the 1st of Sept. last, a likely negro woman, named URSULA, of a yellowish complexion, with some black moles on her face, 30 years of age, 5 feet three or 4 inches high, had on, when she went away, such cloathing as negroes generally wear in the summer, and carried with her a white linen coat and jacket. She is a vile creature, and for her many crimes I punsihed her with an iron collar, but supposed she soon got that off. She is very artful, has a smooth tongue, and is a good weaver, and as she has for some time imposed on the Baptist church by her pretensions to religion, she may probably attempt to pass for a free woman, and do the same again. I will give FOUR DOLLARS reward to any person who will secure her and give information so that I get her again; or eight dollars if delivered at my house in Prince Edward county. FRANCIS SMITH. January 10 1792.