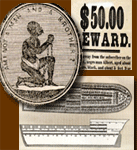 Virginia Gazette or American Advertiser (Hayes),
Richmond, April 5, 1786.
ONE GUINEA REWARD. RAN away from the subscriber, on the 18th. inst. CHARLES, a likely mulatto fellow, about 5 feet 6 inches high, a Barber by trade; carried away with him a pair of craping [sic] irons, powder bag and puff, and some razors.----Whoever will deliver the said fellow to me in this City, or secure him so that I get him again, shall receive the above reward. JOHN HOPE, alias BARBER CAESAR. Richmond, March 30, 1786.
Notes