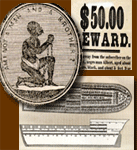 Virginia Gazette and Weekly Advertiser (Nicolson & Prentis),
Richmond, September 20, 1783.
RUN away from my farm near Fredericksburg on the 9th July last, a negro man named ANTHONY, about 30 or 35 years old; he is remarkably large, well made and proportioned for strength and activity, the middle finger of his right hand is crooked and disfigured about the nail, occasioned by a bite which he got in fighting; he has a strong beard; his usual outside clothing hath for some years past been of Virginia cloth, cotton warp filled with wool and double twilled, sometimes dyed with walnut, maple, and other barks, and being strong and of great last, he may yet be in that dress. He hath formerly had two or three severe whippings (which his back will show) for his obstinacy and bad behaviour to his overseers, and his consciousness of deserving further correction, probably made him abscond. He was bred in Prince William county, upon Col. Champes estate. Whoever takes up the said negro and delivers him to me in Fredericksburg, shall receive a reward of ten dollars if taken within 20 miles, 15 dollars if 40 miles, 20 dollars if more than 60 miles, and 30 dollars if out of the state of Virginia, and reasonable travelling expences, or the like sums for securing him in jail, till I can send for and get him. A likely well grown negro lad, about eighteen years old, named ROBIN, absconded from me about the same time; he was brought up from his infancy a house servant, hath been in England, and sent back for pilfering; the same cause induced me lately to put him to labour in the field. I cannot describe his dress; what is most remarkable in his person, is long slim feet and legs, the calves of which are rather higher than common, his head is I think less than proportionate, and forehead low, and his mouth pretty large, his hands and feet both delicate, having never been used to hard work, or to go without shoes; he is very fluent in speech, and much addicted to lying. I will give one half of the rewards offered for Anthony, to any person who brings him home, or secures him in any jail till I get him. CHARLES YATES. Fredericksburg, Sept. 15, 1783.
Notes
Reprint: Windley, vol. 1, p. 219-220.