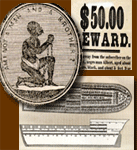 Virginia Gazette (Parks),
Williamsburg,, From Friday, September 24, to Friday, October 1, 1736.
RAN away, on the 17th of September last; from Mr. John Corries, of Piscataway, in Essex County, an English Servant Woman, named Anne Harmon, aged about 20, of a middle Stature, well featur'd, and has black Hair and Eyes: She had on, when she went away, a Cotton Gown and Petticoat, strip'd with red and Blue; and an English Straw Hat, lin'd with White Callico. There were stolen about the Time she went away, Eleven Yards of Fine Scotch Plad, 4 Dozen of Scotch Handkerchiefs, several Holland Shirts and Aprons, Three Pair of fine Worsted Stockings, and several Caps, lac'd and plain. And about 10 Days before, were stolen out of the Store, Eleven Dozen of Scotch Handkerchiefs, 1 Piece of fine Plad, some Nuns Thread, 4 Dozen of Cravats, and 2 Felt Hats: All which she is suspected to have stolen, or been accessory to it. These are therefore to request all Persons to aid and assist in apprehending the said Servant, and bringing her to Justice; and, for so doing, they shall be handsomely rewarded, besides what the Law allows, by John Corries.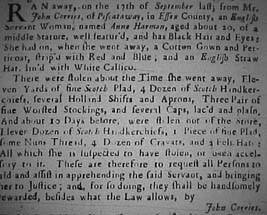 Notes