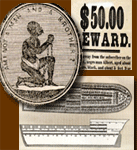 Virginia Gazette (Purdie & Dixon),
Williamsburg, August 3, 1769.
RUN away from the subscriber, the 12th of this instant (July) a Negro man named NED, about 20 years of age, who carried with him a blue duroy coat, a pair of leather and a pair of Russia drill breeches, several shirts of white linen, and several pair of thread stockings. He is well known in several parts of Virginia, and some part of Carolina, as he has frequently been from home keeping horses and riding races for many people besides what I have been concerned in myself. Whoever brings him to me shall have a 5 l. reward. HENRY DELONY.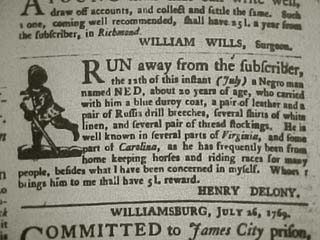 Notes
Reprint: Windley, vol. 1, pp. 71-72.