Virginia Gazette (Parks),
Williamsburg, From Friday, October 8, to Friday, October 15, 1736.
RAN away, on the 30th of September last, from Mr. Patrick Creagh, of the City of Annapolis, Two Servant Men: One named John Connor, a Sailmaker by Trade, much Pock-fretten and freckl'd in the Face; has Red Hair and Beard, wears a Wig or Cap, is an Irish Man, and talks upon the Brogue: Had with him a dark brown Pea Jacket and Breeches, and is supposed to have some other Clothes; He came this Year from Bristol, in the Ship Essex, Capt. Henry Morgan, Commander. The other named Ralph Taylor, a North-Country Man, is a Middle-siz'd Man, of a slow Speech, wears his Hair, which is of a brown Colour, and is a Convict; Had on a brown Coat, and Oznabriggs Trowsers. Went away (also) with them, a Servant Woman, named Sarah Miers, a Dutch Woman, and talks broken English, pretty Tall, Round Shoulder'd. Likely in the Face, and had a Flat Nose: They took with them some Wearing Apparel, viz. a dark Grey Coat trimm'd with Black, a Woman's Blue Cloak, fac'd with White Silk; a Seesucker Gown, one White Linen Ditto; one strip'd Calimanco Ditto, a brown Camblet Petticoat, a Woman's Bermuda hat, lin'd with Blue Silk, and several other Things, viz. Bedding, Linnen, and in particular a Red Rugg. They went in an old carvil Work Long-Boat, with one Mast, and a Square Sail. Whoever secures the said Servants, and brings them to the Subscriber, living in Annapolis, shall have Five Pounds Current Money as a Reward, and reasonable Charges: and if taken out of this Province, they shall have Six Pounds in Gold Reward, and all reasonable Charges, paid by Patrick Creagh.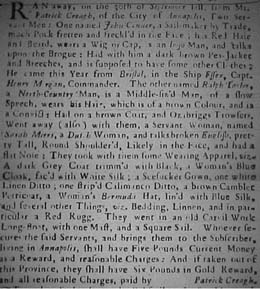 Notes