Virginia Gazette (Pinkney),
Williamsburg, September 29, 1774.
RUN away from the subscriber in York county, in August last, a negro man slave, upwards of 6 feet high, of a tawny complexion, and has lost some of his fore teeth, has a black spot in his forehead, and calls himself STEPNEY BLUE. He has been seen in Gloucester county, was the property of Sarah Mingham, who I have since married, and as I have been informed, has a forged pass, with his mistress's name to it, giving him leave to hire himself. He went away with a free negro woman named Easter Roberts, which I am told is his wife, and I make no doubt but he will, or has got a pass, in order to go as a free man. Any person who will take up the said slave, and secure him so that I get him again, shall receive 20s. if taken within 20 miles of this place, 40s. if at a greater distance, and 5l. if out of the colony, besides what the law allows. NATHAN YANCEY.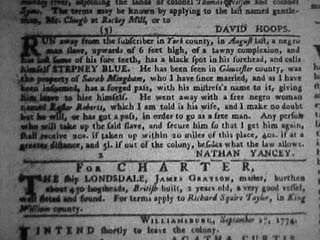 Notes
Reprint: Windley, vol. 1, p. 328, source, name, subscriber only.