Virginia Gazette (Purdie & Dixon),
Williamsburg, April 25, 1771.
RUN away from Charles City, in September 1769, a Negro fellow named CHARLES, of a yellow Complexion, about seven and twenty Years of Age, five Feet eight or nine Inches high, and is an artful cunning Fellow; had on, and carried with him, when he went away, sundry Clothes, but of what Sort more than common is not remembered, only a Bearskin great Coat, and a Pair of large Silver Shoe Buckles. He is a Sawer and Shoemaker by Trade, and carried with him his Shoemaker's Tools. The Fellow reads well, and is a great Preacher, from which I imagine he will pass for a Freeman. I hereby offer a Reward of FIVE POUNDS for apprehending him, if taken in the Colony; if out of it, TEN POUNDS. SARAH FLOYD. N. B. The above Fellow ran away the 16th of February 1765, and was absent near two years.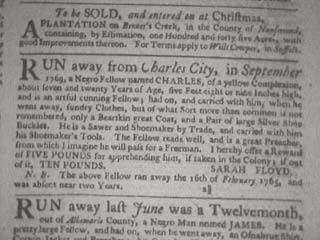 Notes
More Information: Charles had run away in February 1766 and again in September 1768. See #v1766050172 and #v1768100309.