Virginia Gazette (Rind),
Williamsburg, July 12, 1770.
ESSEX, JUNE 27, 1770. RUN away from the subscriber some time in November last, a Mulatto woman of a middle size, though slim; she has the appearance of moth upon her cheeks, her hands very remarkable, as she cannot straiten her fingers. Her dress, when she went away, was a Negro cotton petticoat and jacket, oznabrig shift, and a pair of old shoes, but I imagine she has altered her dress. She was seen about Christmas at the upper end of this county, and went by the name of Free FANNY; since this I have never heard of her, therefore suppose she passes for a free woman. Whoever apprehends the said woman, and brings her home, shall have a reward of THIRTY SHILLINGS, if taken up in Essex, and if in another county FIFTY SHILLINGS, and if in another government FIVE POUNDS, paid by HENRY PURKINS.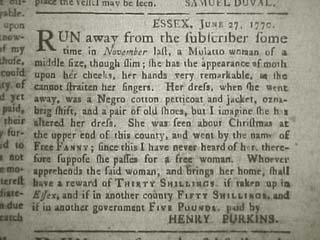 Notes
Reprint: Windley, vol. 1, p. 306.